An indigenous Hong Kong innovation: Moodie.ai improves presentation skills for global learners
View full story here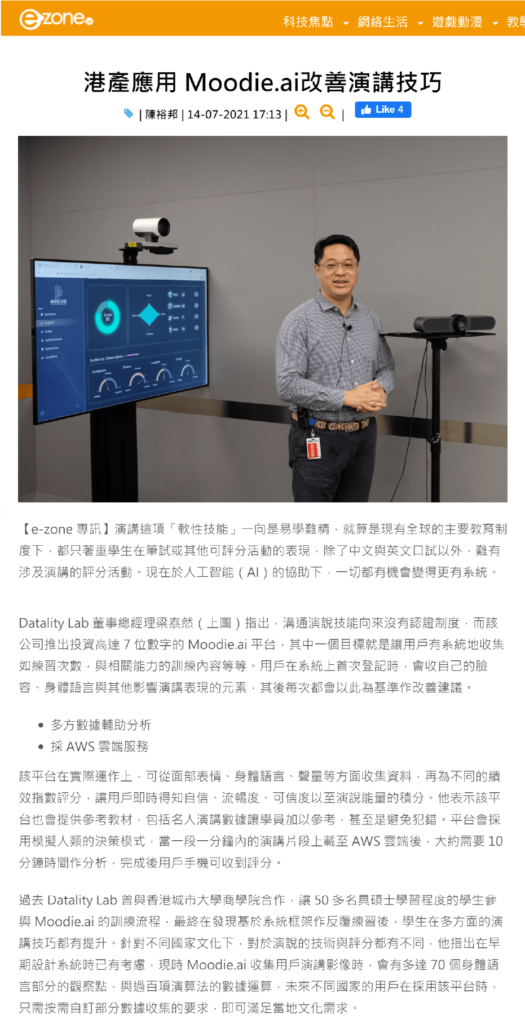 The "soft skill" of communication has always been easy to learn but difficult to master. Even in the major education systems around the world, they only focus on students' performance in written tests or other gradable activities, except for Chinese and English oral tests. Besides, there are hard to have any grading activities involving speeches. Now, with the help of artificial intelligence (AI), everything has the opportunity to become more systematic.
Roland Leung (pictured above), managing director of Datality Lab, pointed out that there has never been a certification system for communication and speaking skills, and the company launched the Moodie.ai platform with an investment of up to 7 figures. One of the goals is to allow users to systematically collect such as the number of exercises, training content related to abilities, etc. When users register on the system for the first time, their face, body language and other elements that affect speech performance will be collected, and will use this as a benchmark for improvement suggestions every time after that.
-Multi-party data-assisted analysis
-Adopt AWS cloud service

In actual operation, the platform can collect data from facial expressions, body language, voice volume, etc., and then score different performance indexes, so that users can instantly know the points of confidence, fluency, credibility and even speaking energy. He said that the platform will also provide reference materials, including celebrity speech data, for students to refer to and even avoid mistakes. The platform will use a decision-making model that simulates human beings. After a one-minute speech clip is uploaded to the AWS cloud, it will take about 10 minutes for analysis, and users will receive a score after completion on mobile phone.
In the past, Datality Lab has cooperated with the Business School of City University of Hong Kong to allow more than 50 students with master's degree to participate in the training process of Moodie.ai, and finally found that after repeated practice based on the system framework, the students have excellent speech skills in many aspects. In view of the differences in speech techniques and ratings in different cultures, he pointed out that he had considered it in the early design of the system. At present, when Moodie.ai collects user speech videos, there are as many as 70 observation points for body language parts. With the data calculation of more than 100 algorithms, when users in different countries use the platform in the future, they only need to customize some data collection requirements as needed to meet the local cultural needs.