By Hong Kong Economic Times on July 21, 2022
View full story here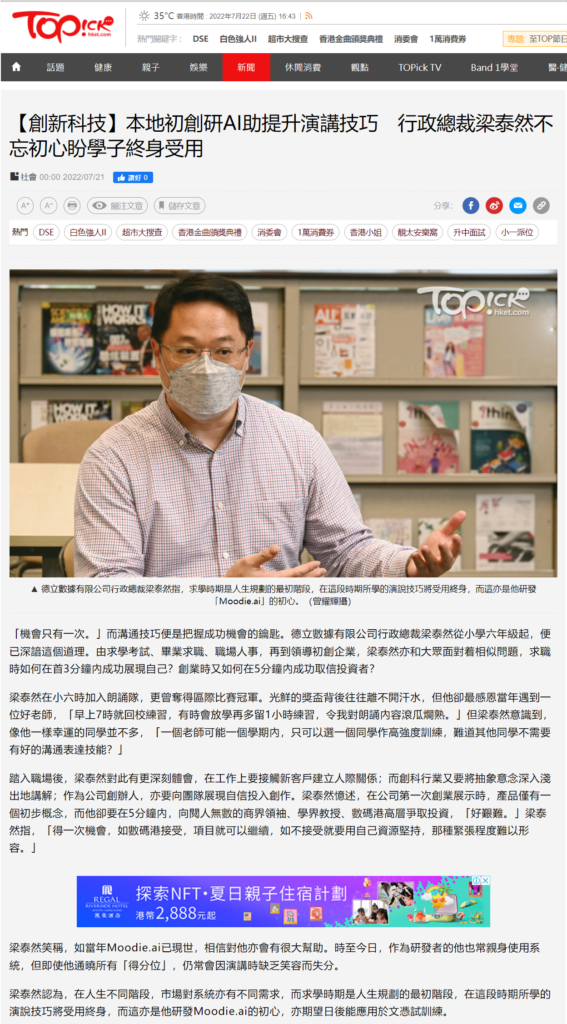 "There is only one chance." And communication skills are the key to grasping the chance of success. Roland Leung, CEO of Datality Lab Limited, has been familiar with this principle since primary school. From study, exams, graduation, job hunting, and workplace personnel, to leading start-ups, Roland Leung also faced similar problems with the public: How to successfully present myself in the first 3 minutes when applying for a job? How to successfully win the trust of investors in 5 minutes when starting a business?
Roland Leung joined the recitation team at primary 6 and even won the inter-district competition. Sweat is often inseparable from a glamorous trophy, but he is most grateful for meeting a good teacher that year. "I went back to school at 7 am to practice, and sometimes I stayed for another hour after school to practice, which made me familiar with the content of the recitation." However, Roland Leung realized that there are not many students as lucky as him. "A teacher may only select one student for intensive training in a semester. Don't other students need good communication skills?"
After entering the workplace, Roland Leung has a deeper understanding of this. At work, he needs to contact new customers to establish interpersonal relationships; while in the innovation and technology industry, he needs to explain abstract ideas in simple terms; as a company founder, he also needs to show confidence and dedication to the team. Roland Leung recalled that in the company's first entrepreneurial demonstration, the product only had a preliminary concept, but he had to seek investment from countless business leaders, academic professors, and Cyberport executives within 5 minutes, "It was very difficult." Roland Leung pointed out, "You only get one chance. If Cyberport accepts it, the project can be continued. If they don't accept it, you have to use your own resources to persevere. The tension is indescribable."
Roland Leung said with a smile that if Moodie.ai had already appeared, he believes it would be of great help to him. Today, as a developer, he often uses the system on himself, but even if he knows all the "scoring points", he still often loses points for a lack of a smile when speaking.
Roland Leung believes that at different stages of life, the market has different needs for the system, and the education period is the initial stage of life planning. The presentation skills learned during this period will be used for life, and this is what he developed Moodie.ai. He also hopes that Moodie.ai can be applied to the training of the HKDSE in the future.