By Hong Kong Economic Times on July 21, 2022
View full story here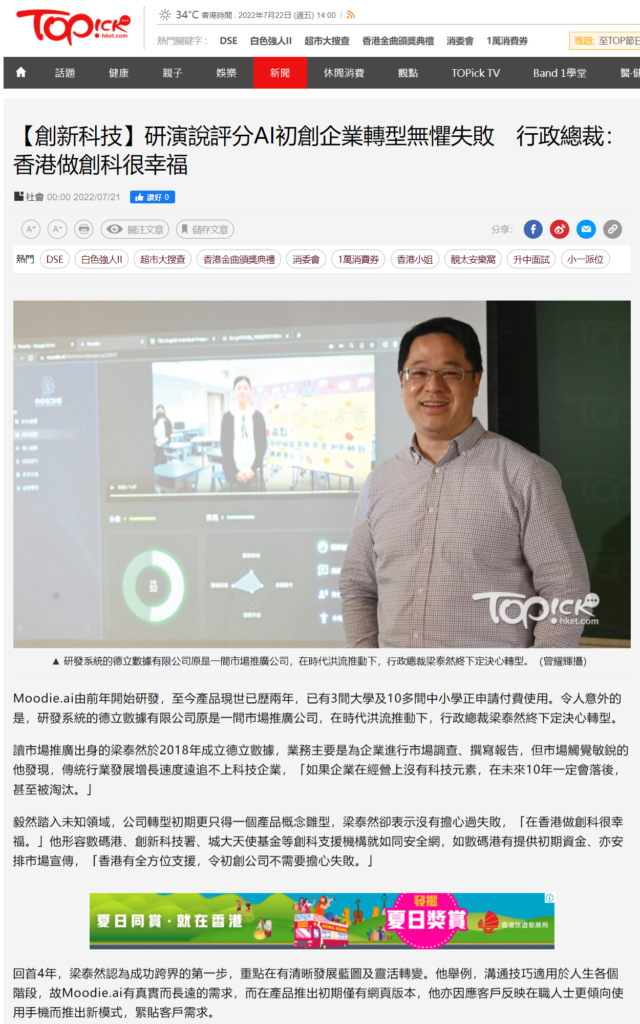 Moodie.ai started its development in 2020, and it has been two years since the product launched. 3 universities and more than 10 primary and secondary schools are applying for licensed use. Surprisingly, Datality Lab Limited, which developed the system, was originally a marketing company. Driven by the torrent of the times, CEO Roland Leung finally decided to transform.
Roland Leung, who has a background in marketing, established Datality Lab Limited in 2018. His business is mainly to conduct market research and write reports for enterprises, but he has a keen market sense and found that the development and growth rate of traditional industries is far behind that of technology companies. "If there is no technological element in operation, it will definitely fall behind or even be eliminated in the next 10 years."
Resolutely stepping into the unknown field, the company only had a prototype product concept in the early stage of its transformation, but Roland Leung said that he had never worried about failure. "I am very happy to be an I&T company in Hong Kong." He mentioned IT supportive organizations such as Cyberport, Innovation and Technology Commission and CityU HK Tech 300 Angel Fund are like safety nets. For example, Cyberport provides initial funding and also arranges marketing promotions. "Hong Kong has all-round support so that start-ups don't need to worry about failure."
Looking back on the four years, Roland Leung believes that the first step to a successful crossover is to have a clear development blueprint and flexible changes. He gave an example that communication skills are applicable to all stages of life, so Moodie.ai has real and long-term needs. And at the beginning of the product launch, there is only a web version. After receiving feedback from clients, he also launched a new mobile mode in response to customers' feedback that working people are more inclined to use mobile phones.